Social Bowling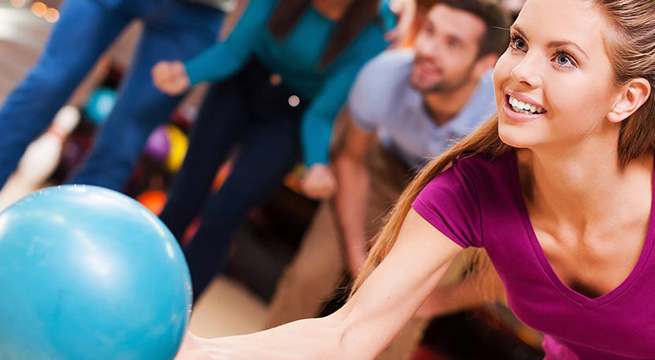 Tenpin Bowling is for Everyone!
People of any age can bowl and it's so easy to learn to play. Hit the lanes and within minutes you'll be knocking down the pins and having a great time.
We provide all the equipment including the balls and shoes, you just need to bring yourself and socks! We also have automatic computer scoring to keep track of every player on your lane so you can see who's the champion bowler in your group!
We're open 7 days a week from early morning 'til late at night and we're air-conditioned with a modern cafe so you can enjoy a meal and a drink during or after your game. We have great music, video clips, disco lighting glowing runway strips on the lanes which show up during our cosmic bowling sessions to add even more to the fun atmosphere.
All of our 18 lanes are equipped with bumpers to help assist with beginners and young children.
Weekends and school holidays are always great times to go bowling and take advantage of our great value family deals and special holiday deals.
It's always a good idea to phone ahead to book your lane, so call us soon to book in and hit the lanes with your family and friends for some tenpin bowling fun!
Prices:
Adults: 16 yrs and older
$12 for the first game
$8 for every game after
Children: 15yrs and under
$9.00 for the first game
$6.00 for every game after
Family: 2 Adults and 2 Children
$39.00 – 1 Game
$59.00 – 2 Games
$79.00 – 3 Games
Groups: 15 or more people for 2 games
$15.00 – Adults
$12.00 – Children
Prices include shoe hire.
Family deals are not valid during school holiday periods. Please check our School Holidays page for School Holiday Specials

Check out our promotion/special board in centre for all our discounts and specials we have on offer!
Book a Lane Online
If you'd like to book a lane, please complete the form below and send us your booking request. One of our staff members will then contact you by phone or email to check the lane availability and confirm the booking for the day and time you have requested.
Please feel free to ring to confirm your booking if you would like to confirm urgently. Phone: (07) 4952 1509